COPPER/ COPPER SULPHATE REFERENCE ELECTRODE
PORTABLE CU/CUSO4 REFERENCE ELECTRODE
GENERAL
<![if !vml]><![endif]>For use in soft soils. Provides lower contact resistance.
When pushed into soft soils, the shape of the plug helps
the electrode to "stand up."
All copper sulfate electrodes are shipped dry but include
a charge of high-purity copper sulfate crystals. A
protective cap for the CPT porous plug is also supplied.
Copper/copper sulfate reference electrode with rugged
ceramic plug having a conical shaped surface. Designed
for use in soft soils. High purity copper rod and robust
Lexan tube. Electrode has a transparent "window" to
view the condition of the saturated copper sulfate solution.
SPECIFICATION
Length : 6 ¾ inches
Diameter : 1 3/8 inches
Dry Weight : 5 oz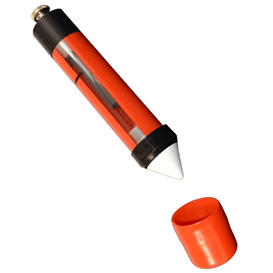 <![if !vml]> <![endif]>
COPPER SULPHATE 5-HYDRATE CRYSTAL POWDER
CONTENTS
Copper ≥24.5%
Chloride ≤500ppm
Lead ≤50ppm
Iron ≤300ppm
500g per Bottle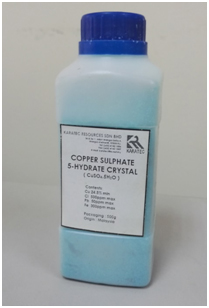 PERMANENT CU/CUSO4 REFERENCE ELECTRODE
<![if !vml]> <![endif]>GENERAL
The Permanent Reference Electrodes are designed
to be used for underground installation and have long
service life upto 30 years.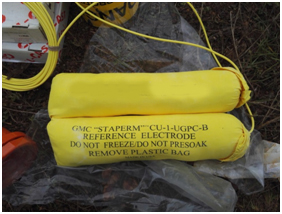 SPECIFICATION
Size : 2" dia. x 7" long high impact ABS plastic tube
Packaging : Special non-polarizing backfilled in yellow cotton bag
Overall Size : Approx. 6" dia. x 14" long
Weight: Approx. 15 lbs
Reinforcing Rods : ¼" x 3" PVC at electrode end
Lead Wire : Standard 30ft. of AWG #14 RHW cable
Design Life : 30 years
Stability : ±5 milivolts with 3.0μAmp Load
Temperature Range : 32˚F to 150˚F