SILVER/SILVER CHLORIDE REFERENCE ELECTRODE
PORTABLE Ag/AgCl REFERENCE ELECTRODE
GENERAL
<![if !vml]> <![endif]>
Portable Ag/AgCl reference electrode can be used to determine the potential values of submerge structures in high contain chloride concentration environment. The Ag/AgCl reference electrode has electrical stability for long life performance.
The reference electrode is made by saturated gel of silver chloride contained in tube with filtering plug at one end of the tube.
SPECIFICATION
Size                             : 1.5" dia. x 6" long, space-age ceramic tube with blue protective caps
Lead Wire                   : 30' of #14 RHH-RHW cable
Stability                      : ± 5mV
Temperature Range   : 0˚Cto 57.2˚C
Custom cable tail can be specified upon order to meet customer's requirement.
PROBE TYPE Ag/AgCl REFERENCE ELECTRODE
GENERAL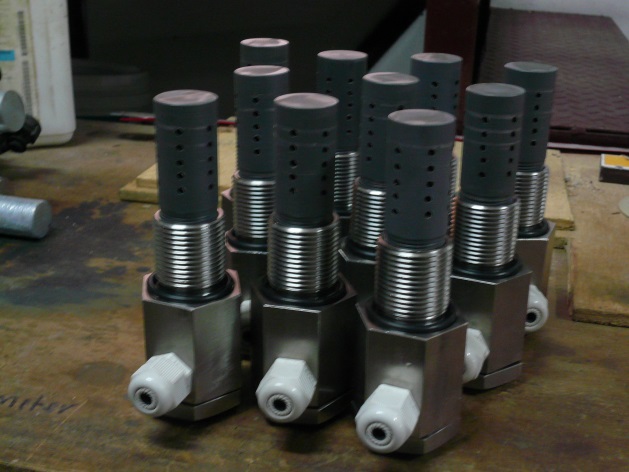 <![endif]>
Custom-made Ag/AgCl reference electrodes are made for
through-the-hull application, or vessel/ tank internal
monitoring. The probe type reference electrode contains
porous nozzle which houses the silver filament for
potential measurement.
The probe type Ag/AgCl reference electrode is most
suitable for monitoring submerged internal surface of
tanks with chloride content.
ORDERING INFORMATION
Ag/AgCl reference electrodes are available in various customizable shapes suited to environment in use.
Custom sizes of reference electrode can be specified upon order to meet customer's requirement.
Specify the following details upon ordering:
<![if !supportLists]>1. <![endif]>Shape/ Type
<![if !supportLists]>2. <![endif]>Dimension
<![if !supportLists]>3. <![endif]>Quantity
<![if !supportLists]>4. <![endif]>Cable Tail Size, Length, Insulation Type (For portable Ag/AgCl reference electrode only)